Form follows function
When Laura and I started to remodel our kitchen last year, we always returned from the big home improvement stores sorely disappointed; either the product designs were poorly executed or the quality was crap. When the thought of a tile back-splash and accents came up, I instead turned to my drawing table and began piling up designs that I wanted to see realized and knocked out the first three in wax pretty quickly (not wanting to re-invent the wheel, I sculpted mine to the most popular commercially available size, 4 1/4" x 4 1/4"). I had really never given much thought to this market before and had no idea if there might be a demand, but when I debuted the final results in bronze at the last show I did, the reaction was overwhelming. I was very pleasantly surprised, to say the least.
Here's the first, an Oriental poppy (I was still fixated on the new poppy garden I had just planted at the time and would lay out there in the dirt with my camera and calipers late into the evening, swatting at mosquitoes and making notes):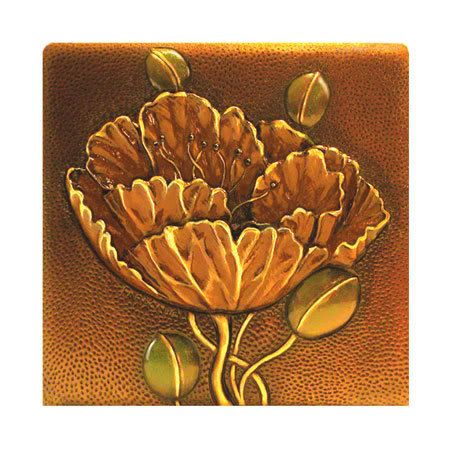 I have two more finished tiles that I just need to get around to photographing; I'll try and post them over the next few weeks. Meanwhile, due to the interest level, I'm getting prepped to start sculpting the next few designs in between the other projects already underway on the old workbench. I'll post them here when they're done.